Sinuforce Nasal Spray
£0.40 per ml
A.Vogel Sinuforce Nasal Spray with menthol provides rapid relief for nasal catarrh and a blocked or congested nose. It reduces swelling of the nasal mucous membranes, but leaves the natural protective function intact.
SKU: 3740842
Barcode: 7610313405206
The 100% natural ingredients soothe your nasal mucous membranes.
Sinuforce Nasal Spray with menthol also contains peppermint oil and eucalyptus oil to ease breathing, and chamomile oil which has a soothing effect on your nose.
If required, the nasal spray can be used over a prolonged period of up to 30 days.
The unique bottle makes preservatives unnecessary.
Children (2-12 years):
Spray once into each nostril, 1-2 times a day for a period not exceeding 30 days.
Adults: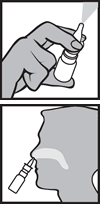 Spray once or twice into each nostril, 3-5 times daily for a period not exceeding 30 days.
This product is not suitable for children under 2 years old.
Holding the bottle upright, remove the plastic cap and insert the nozzle into the nostril.Depress the pump by placing the fingers on either side of the nozzle.
Note: It may be necessary to prime the pump before use by depressing the spray mechanism once or twice until a fine spray appears.
Physiological saline solution (purified water, sodium chloride (NaCl), disodium hydrogen phosphate-12H20, sodium dihydrogen phosphate-2H20); sorbitol; PEG-40 hydrogenated castor oil; eucalyptus oil (Eucalyptus globulus); peppermint oil (Mentha piperita); chamomile oil (Chamomilla recutita).
Can be used as directed during pregnancy or when breast-feeding. Keep out of the reach and sight of children. Use within 12 weeks of opening.
We currently only ship to the United Kingdom and Channel Islands. If you are outside of this area, please contact our customer services for shipping costs to your region.
Postage and Packing Costs
Postage and packing costs will be added to the cost of your order and will depend on the total cost of the items you order and, where delivery options are provided, the option you choose.
The postage and packaging charge you will pay will be displayed on screen before you confirm your order to us. Where multiple items are included in one order, we may dispatch the items separately, in which case, you will only be charged one postage and packing charge. If your order total drops below the £25 delivery threshold due to cancelled orders, you will be charged the standard delivery rate.
Express Delivery = Charge £8.95 (We aim to deliver the next working day for orders placed before 1pm. Orders made before Friday 1pm will be delivered on Monday. Orders placed after Friday 1pm, throughout the weekend and before Monday 1pm will be delivered Tuesday). This service is not available to Northern Ireland. Please note that during busy periods this service may not be Next Day.
Restricted Delivery = Charge £8.95 (Orders placed from Thursday 2pm throughout the weekend will be delivered by Tuesday). This rate is for products that cannot be sent via our usual standard delivery services such as products that require refrigeration.
Standard delivery is currently FREE for all orders over £25 (We aim to dispatch orders within 3 - 5 working days to the address provided by you in your order). Exclusions apply (refrigerated products need to be sent with Restricted Delivery)
For orders less than £25 there is a £2.95 Postage and Packing fee.
Click & Collect service is free and available as an option for customers within government guidelines.
Wheelchair delivery and other large items = charge £49.95. Delivered within 3 working days on orders placed before 1pm, Monday to Friday.
Purchasing in bulk/high unit volume
Please note that when purchasing high unit volumes of single lines (10+ units) that delivery promotions are null and void. This is as a result of high volume orders not being able to be dispatched via our normal third party fulfilment. As a result for any excessive bulk orders of single lines we will be in touch regarding your order to discuss further delivery costs that will be incurred.