Your skin has the power to stay young for longer
Institut Esthederm is a brand like no other. Inspired by professional aesthetics, Esthederm believes your skin has the power to stay young for longer. Products are the perfect complimentary care to aesthetic medicine treatments, mimicking the treatments and prolonging the effects with scientifically proven effectiveness. The art of formulations has been crafted for over 40 years of scientific research. Esthederm uses carefully selected biomimetic and active ingredients, selecting only the purest ingredients at the perfect dose that your skin needs.
At the heart of all Esthederm's products you will find Cellular Water that is inspired by the water naturally present in your skin, optimising cell energy to the level of young cells.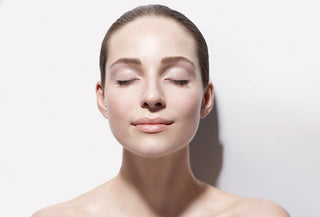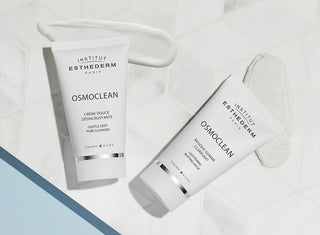 Osmoclean
Cleanse with Respect
A unique, extremely gentle deep-cleansing method, for revitalised skin that is more receptive to treatments. A perfect combination of efficacy and gentleness, strengthening skin's barrier. High tolerance cleansing base formulated with synthetic and natural surfactants cleanses by emulsifying and eliminating impurities. It works in perfect osmosis with the skin, respecting the fragile balance of the hydrolipidic film and skin's ecobiology. You will find daily cleansers – milk, foam, gel, lotion and new micellar oil – and weekly cleansing treatment duo: Gentle Deep Pore Cleanser & Lightening Buffing Mask that is a perfect pampering at-home SPA treatment for brightened, smoother and more luminous skin.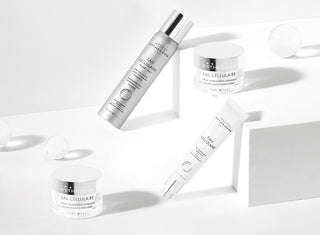 Cellular Water
Energise the Skin
CELLULAR WATER range boosts skin cell energy and is a perfect antioxidant daily care! Its advanced antioxidant technology targets 3 main forms of free radicals that cause signs of ageing like wrinkles and dull complexion. Iconic Cellular Water Mist is the first mist as powerful as serum, boosting the effectiveness of skincare. The melting moisturising Cellular Water Cream revitalises the skin and acts as a shield against everyday pollution and oxidative stress.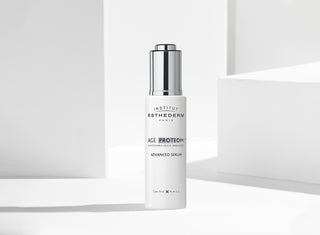 Age Proteom™
Slow Down Skin Ageing
NEW Age Proteom™ Advanced Serum is a ground-breaking innovation in the science of ageing! It protects and strengthens proteins in the skin. Not only it reduces all visible signs of ageing if already visible on the skin – wrinkles, loss of firmness, lack of radiance, loss of density, uneven complexion – but perhaps most impressively, in clinical trials, the serum has been shown to halve the speed at which skin ages in just 28 days! As a result, it's just as suitable for those looking for protective skincare, as for those seeking a product that will repair existing damage. For young and mature.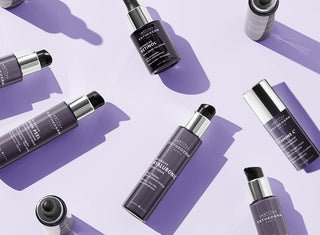 Intensive
Professional Treatments
Looking for at-home skincare that mimics aesthetic professional treatments? Want to prolong the effects of aesthetics? Institut Esthederm INTENSIVE collection combines the most powerful molecules. The purest ingredients at the perfect dose to achieve proven results on the skin mimicking and prolonging aesthetic treatments. Hyaluronic, Vitamine C, Retinol, AHA, Propolis and Vitamine E are there for you, supporting you in achieving your dream skin goals!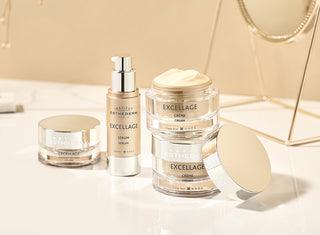 Excellage
Energise the Skin
Is your skin now starting to lose it's support structure, overall firmness and radiance? EXCELLAGE is a powerful and super-nourishing range to bring action from the cell level to the skin surface for a triple benefit: density, nutrition and radiance. It address all types of skin ageing, including hormonal and environmental. The range consists of a serum, cream and eye care.
Professional suncare
More than SPF
Designed to protect from full spectrum light (UVA, UVB, blue light, visible light, infra-red), strengthen our skin's natural ability to protect itself better from photo-ageing and neutralize the sun's negative effect on skin. Enriched with unique patented ingredients, products enable you to achieve your dream skin goal – whether it is a deeper and longer-lasting tan, tanned skin with brighter dark spots, reduced wrinkles, brightened skin even during sun exposure or minimised sun intolerance. Sun symbols (Moderate sun / Strong sun) allow you to adapt your protection to the type of sun exposure and the place you are. To protect the youthfulness of the skin, while allowing you to achieve a dream tan.