Global #1 Marine Collagen Brand
Vida Glow is a science-first ingestible beauty brand, creating targeted solutions for modern beauty concerns. Founded in 2014 by Anna Lahey, Vida Glow first launched with its clinically proven and global number one Natural Marine Collagen. A hydrolysed peptide powder that stimulates collagen production for powerful benefits across hair, skin and nails.
Today, Vida Glow continues to push the boundaries of what's possible in ingestible beauty. Through a concern-solution approach, the brand delivers clinically efficacious formulas to support you every day – at every age. Addressing concerns such as hair loss and thinning, fine lines, pigmentation and inflammation, Vida Glow's priority is to create effective and easy-to-adopt products. So your beauty routine works as hard as you do.

"Vida Glow is designed for real women and real life. Our ingestible beauty solutions start below the surface to target modern beauty concerns with visible results. My vision is for Vida Glow to be part of your routine every day, every step of the way."
- Anna Lahey, Founder of Vida Glow
Age Defiance Skincare
A clinically proven anti-ageing skincare routine. Age Defiance Eye Contour Cream, Rapid Renewal Serum and Hydra-Memory Cream – three streamlined, synergistic steps optimally advanced by biomarine actives to deliver firm, illuminated skin.
for your hair & Skin
Beauty Supplements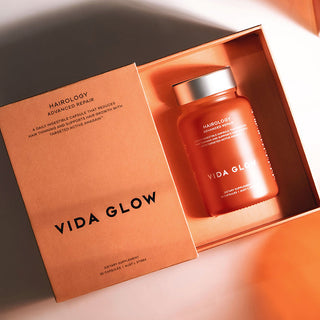 Support Hair Growth
Hairology
Hairology™ is a once-daily ingestible capsule from Vida Glow's Advanced repair range. Hair sheds every day as part of its natural renewal cycle. Yet age, stress, hormones and vitamin deficiencies can prompt weakness, damage and excessive shedding. Targeting the cause of thinning lacklustre hair, hairology™ optimises the environment necessary for hair to grow and thrive.
Brighten, Improve & Illuminate your Skin
Radiance
Radiance is a once-daily ingestible capsule from Vida Glow's advanced repair range. Looking at pigmentation as a leading cause of uneven skin tone, its unique blend of potent and bioavailable actives addresses dull, discoloured skin caused by excess melanin production.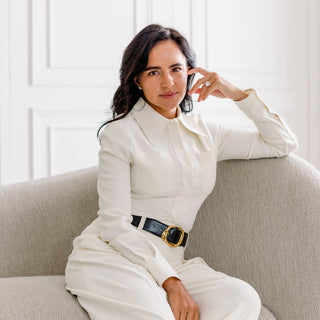 meet the founder
Everything you Want to Know About Marine Collagen
We caught up with Vida Glow's Founder, Anna Lahey, to chat through how the range came about, what inspires her products, the philosophy behind the range, and everything you want to know about collagen supplements.